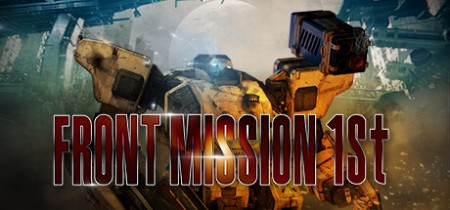 FRONT MISSION 1st Remake v2 0 3-DINOByTES
Genre : :Strategy
Language :English, French, Italian, German, Spanish - Spain, Japanese, Polish, Portuguese - Portugal, Traditional Chinese
Format :ISO
Size :11.22 GB
Steam infos :
Код:
 https://store.steampowered.com/app/2399730/FRONT_MISSION_1st_Remake/
.: About this Game :.
FRONT MISSION 1st: Remake is an immersive, tactical turn-based RPG, placing you in command of the awe-inspiring Wanzers - powerful military machines.
ScreenShoot

System Requirements :
Requires a 64-bit processor and operating system
OS: WIN7-64 bit
Processor: Intel I5-2300 / AMD A8-5600k
Memory: 4 GB RAM
Graphics: GeForce GTX 630 / Radeon HD 6570
DirectX: Version 11
Storage: 7 GB available space
download скачать
Hoster : RapidGator, NitroFlare


FRONT_MISSION_1st_Remake_v2.0.3-DINOByTES.part01.rar
Код:
https://rapidgator.net/file/a19ad5f4432b2fbb9fe6a5e5ad6e9275/FRONT_MISSION_1st_Remake_v2.0.3-DINOByTES.part01.rar
FRONT_MISSION_1st_Remake_v2.0.3-DINOByTES.part02.rar
Код:
https://rapidgator.net/file/bcb16387751620246fdb3c28afdd9c2c/FRONT_MISSION_1st_Remake_v2.0.3-DINOByTES.part02.rar
FRONT_MISSION_1st_Remake_v2.0.3-DINOByTES.part03.rar
Код:
https://rapidgator.net/file/5fd71de1c4edb9749f376107fbb56340/FRONT_MISSION_1st_Remake_v2.0.3-DINOByTES.part03.rar
FRONT_MISSION_1st_Remake_v2.0.3-DINOByTES.part04.rar
Код:
https://rapidgator.net/file/a6f551824f06f74bd5eb9e0db6faf182/FRONT_MISSION_1st_Remake_v2.0.3-DINOByTES.part04.rar
FRONT_MISSION_1st_Remake_v2.0.3-DINOByTES.part05.rar
Код:
https://rapidgator.net/file/99234ca1a733afe988e5b3578e19b2f3/FRONT_MISSION_1st_Remake_v2.0.3-DINOByTES.part05.rar
FRONT_MISSION_1st_Remake_v2.0.3-DINOByTES.part06.rar
Код:
https://rapidgator.net/file/45e475de7865096a73006ecabac45e06/FRONT_MISSION_1st_Remake_v2.0.3-DINOByTES.part06.rar
FRONT_MISSION_1st_Remake_v2.0.3-DINOByTES.part07.rar
Код:
https://rapidgator.net/file/0a066f5bce3e630b4b401eeb22b3a689/FRONT_MISSION_1st_Remake_v2.0.3-DINOByTES.part07.rar
FRONT_MISSION_1st_Remake_v2.0.3-DINOByTES.part08.rar
Код:
https://rapidgator.net/file/505199aef3411931654d72f3fafac745/FRONT_MISSION_1st_Remake_v2.0.3-DINOByTES.part08.rar
FRONT_MISSION_1st_Remake_v2.0.3-DINOByTES.part09.rar
Код:
https://rapidgator.net/file/977f08c649319400c9a9d026aa7f0833/FRONT_MISSION_1st_Remake_v2.0.3-DINOByTES.part09.rar
FRONT_MISSION_1st_Remake_v2.0.3-DINOByTES.part10.rar
Код:
https://rapidgator.net/file/efd3f30aa32dacfe51f66fed374fa596/FRONT_MISSION_1st_Remake_v2.0.3-DINOByTES.part10.rar
FRONT_MISSION_1st_Remake_v2.0.3-DINOByTES.part11.rar
Код:
https://rapidgator.net/file/47b3ef79a3008c9786239aa2c0861b41/FRONT_MISSION_1st_Remake_v2.0.3-DINOByTES.part11.rar
FRONT_MISSION_1st_Remake_v2.0.3-DINOByTES.part12.rar
Код:
https://rapidgator.net/file/672c60af48a73451afa4d83f21a61d64/FRONT_MISSION_1st_Remake_v2.0.3-DINOByTES.part12.rar
FRONT_MISSION_1st_Remake_v2.0.3-DINOByTES.part13.rar
Код:
https://rapidgator.net/file/f91c206ef2e24d37642e62ec76cc4e83/FRONT_MISSION_1st_Remake_v2.0.3-DINOByTES.part13.rar

FRONT_MISSION_1st_Remake_v2.0.3-DINOByTES.part01.rar
Код:
https://nitroflare.com/view/3049A1D0C5EC438/FRONT_MISSION_1st_Remake_v2.0.3-DINOByTES.part01.rar
FRONT_MISSION_1st_Remake_v2.0.3-DINOByTES.part02.rar
Код:
https://nitroflare.com/view/3E1B912E1AA6391/FRONT_MISSION_1st_Remake_v2.0.3-DINOByTES.part02.rar
FRONT_MISSION_1st_Remake_v2.0.3-DINOByTES.part03.rar
Код:
https://nitroflare.com/view/A261E45E19EB7D6/FRONT_MISSION_1st_Remake_v2.0.3-DINOByTES.part03.rar
FRONT_MISSION_1st_Remake_v2.0.3-DINOByTES.part04.rar
Код:
https://nitroflare.com/view/FED64B934F8B908/FRONT_MISSION_1st_Remake_v2.0.3-DINOByTES.part04.rar
FRONT_MISSION_1st_Remake_v2.0.3-DINOByTES.part05.rar
Код:
https://nitroflare.com/view/5996494F445B772/FRONT_MISSION_1st_Remake_v2.0.3-DINOByTES.part05.rar
FRONT_MISSION_1st_Remake_v2.0.3-DINOByTES.part06.rar
Код:
https://nitroflare.com/view/A95B7769E153902/FRONT_MISSION_1st_Remake_v2.0.3-DINOByTES.part06.rar
FRONT_MISSION_1st_Remake_v2.0.3-DINOByTES.part07.rar
Код:
https://nitroflare.com/view/FD17AC647A2C35E/FRONT_MISSION_1st_Remake_v2.0.3-DINOByTES.part07.rar
FRONT_MISSION_1st_Remake_v2.0.3-DINOByTES.part08.rar
Код:
https://nitroflare.com/view/D0FE802020529BB/FRONT_MISSION_1st_Remake_v2.0.3-DINOByTES.part08.rar
FRONT_MISSION_1st_Remake_v2.0.3-DINOByTES.part09.rar
Код:
https://nitroflare.com/view/B6A282E5144C031/FRONT_MISSION_1st_Remake_v2.0.3-DINOByTES.part09.rar
FRONT_MISSION_1st_Remake_v2.0.3-DINOByTES.part10.rar
Код:
https://nitroflare.com/view/72A30F0F1603AEC/FRONT_MISSION_1st_Remake_v2.0.3-DINOByTES.part10.rar
FRONT_MISSION_1st_Remake_v2.0.3-DINOByTES.part11.rar
Код:
https://nitroflare.com/view/4FC01AD3CAF9E49/FRONT_MISSION_1st_Remake_v2.0.3-DINOByTES.part11.rar
FRONT_MISSION_1st_Remake_v2.0.3-DINOByTES.part12.rar
Код:
https://nitroflare.com/view/89A8D47E65973F7/FRONT_MISSION_1st_Remake_v2.0.3-DINOByTES.part12.rar
FRONT_MISSION_1st_Remake_v2.0.3-DINOByTES.part13.rar
Код:
https://nitroflare.com/view/2E273493343BA8D/FRONT_MISSION_1st_Remake_v2.0.3-DINOByTES.part13.rar
For any dead links contact me on TELEGRAM : @ADTEAM1, i will update ASAP